Magazines - Newspapers - Books
Magazines - Newspapers - Books
By Costas Christ, editor
National Geographic Adventure,
Earth Day Publication,  1st May, 2009
 " …  Tree Tops Jungle Lodge sits on the edge of Yala National Park and employs local villagers as cooks, guides, and caretakers.
         Its ecotourism model is simple, yet effective: Sustainable income equals elephant protection"
Joe Cummings,
Lonely Planet, Sri Lanka. 2006, p. 266.
" …    Staying at Tree Tops Jungle Lodge, an extraordinary isolated ecolodge at base of the Weliara Ridge, is a philosophical statement – intensely personal communing with nature, enjoy the starlight and listen for wild elephants    … "
Jenny Walker,
Lonely Planet, Sri Lanka. Published: 2021
" … Yala National Park is one of Sri Lanka's best national parks … and there's accommodation in forest camps such as Tree Tops Jungle Lodge … "
Geographical, London. December 2002. P. 113
The official magazine of the Royal Geographical Society, United Kingdom
Article: Asian green hotels – Sri Lanka
" … Wild elephants and abundant birdlife … Tree Tops is a stunning Jungle Lodge … ! "
Frankfurter Allgemeine
By Katrin Hummel, Redakteurin
Frankfurter Allgemeine, Sonntags Zeitung
18th February, 2018, p. 70
" …    If the elephants come here, we'll stand behind the pillars to show them respect, says Lars Sorensen, pointing convincingly to three ridiculously thin wooden posts that carry the airy roof of the restaurant, which is otherwise open on all sides.
          Sorensen is Danish, around 50 and owner of the Tree Tops Jungle Lodge seems so relaxed. He looks relaxed too: He is wearing no shoes, a sarong and a brightly printed shirt    … "
The Sunday Times, UK
Sunday, 6th December 2014
Article: Sri Lanka's 20 best boutique hotels
" … Iconic Tree Tops Jungle Lodge is one of the most ecofriendly of tented lodges near Yala National Park…"
The Guardian, Travel
United Kingdom
Saturday, 25th February, 2006
Article: "The New Green"
" … At Tree Tops Jungle Lodge in the Weliara wilderness of south-east Sri Lanka, the aim is to live simply and in harmony with nature … "
By Royston Ellis
Bradt Travel Guides
Second Edition, September 2005
Article: Buttala
" … At a T-junction there is a road to the south from Buttala to the Yala National Park. That is the way to the eco-incredible Tree Tops Jungle Lodge.
          With emphasis on as little disturbance as possible to the jungle in which is located, while also creating employment for the impoverished villagers of the area, this private nature reserve has been opened to those who really want nature in the raw … "
Brook Sabin
The Sunday Star Times, New Zealand
27th August 2017
Article: "Glamping with elephants"
" … Sri Lanka has several national parks teeming with wildlife, but you can't stay the night in them.
          Tree Tops Jungle Lodge is one of the few places where you can get pretty close. It's on the untouched northern border of the popular Yala National Park … "
By Jeremy Head
Wanderlust, September 2004
Article: "Unforgettable"
" … It was pitch black outside as a storm approached. Lars thought he heard an elephant so we immediately extinguished the lights in order not to frighten it. After a moment I heard branches breaking and a kind of chomping sound … "
Explore Sri Lanka
March 2007
By Dilini Gunasekera
Article: "Elephant Country"
" … The absence of electricity was symbolic of the surroundings and the lifestyle we would have to adjust to with the jungle at our doorstep. Looking into the darkness, we could feel a sense of mystery, as the calm night gazed down on us …. "
By Leong Siok Hui
THE STAR
Kuala Lumpur, Malaysia.
26th November, 2009
Article: Top-10 Asian eco-retreats
" … This archetypal ecolodge is a low-impact camp run by locals living in the fringe of Yala National Park. Visitors get to sample the authentic local lifestyle while treading lightly … "
GEO. FR. Paris,
Martin Fossati, December 2010.
Article: Voyages Tourisme-vert. Nature & Biodiversité .
" … In Sri Lanka Tree Tops Jungle Lodge surprises with its infrastructure and philosophy.
          This ecolodge educates travelers and the local population to respect the fauna of the region, especially elephants … "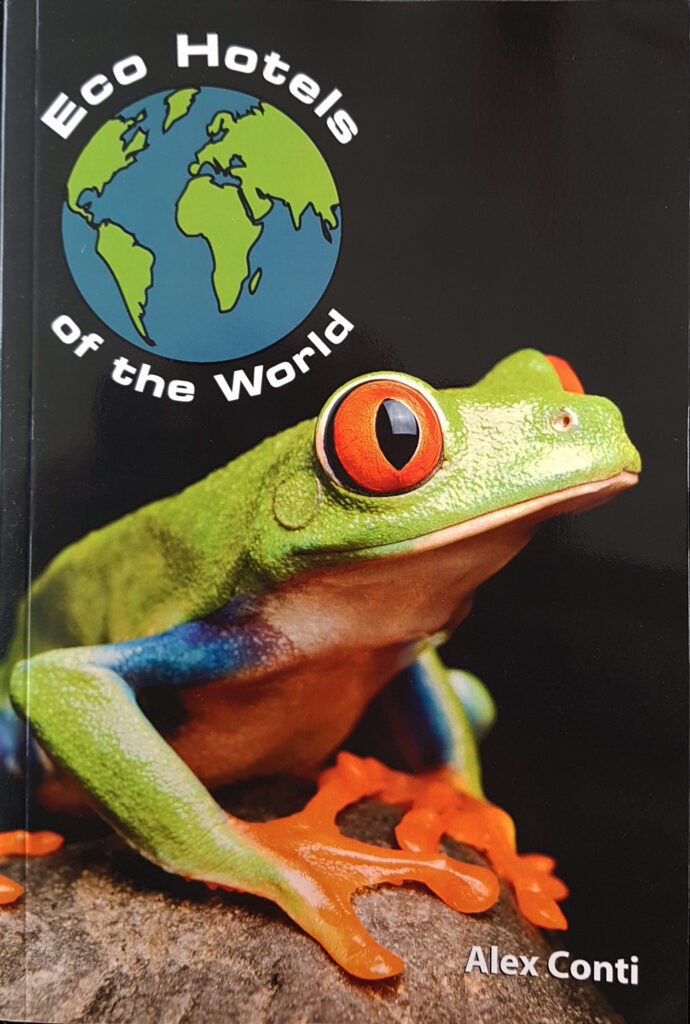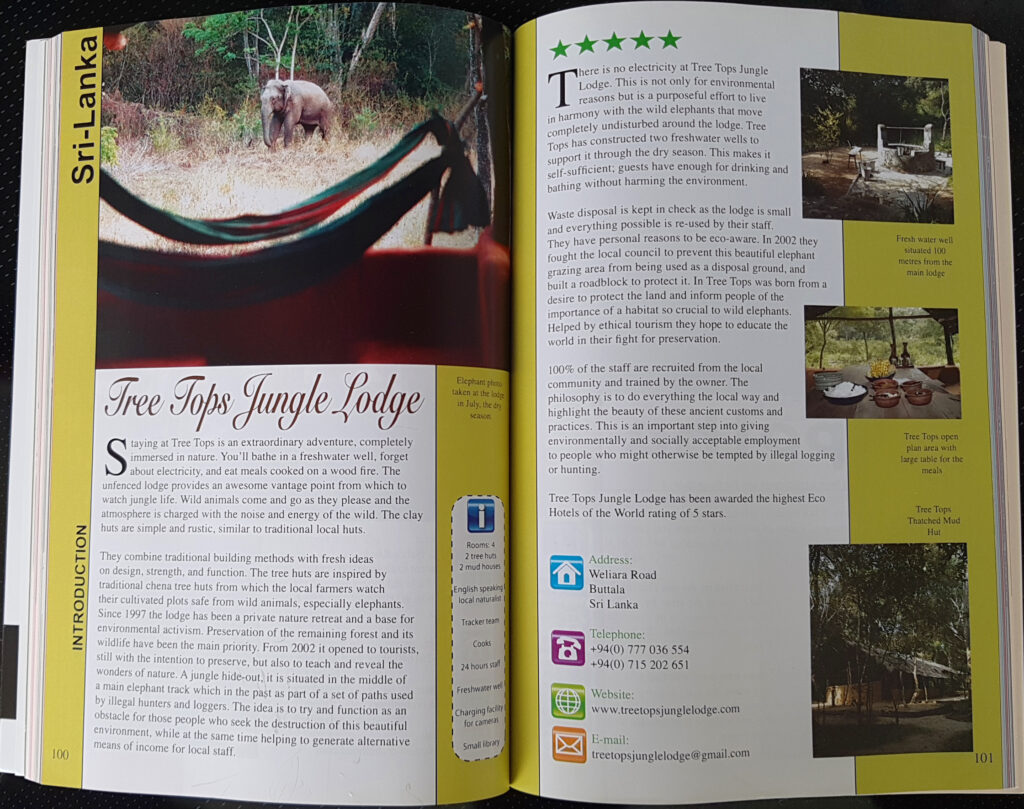 Book: Eco Hotels of the World
By Alex Conti
Published by Eco Hotels of the World
Cheshire, England, 2008
" … Tree Tops Jungle Lodge was born from a desire to protect the land and inform people of the importance of a habitat so crucial to wild elephants.
Helped by ethical tourism they hope to educate the world in their fight for preservation.
100% of the staff are recruited from the local community and trained by the owner. The philosophy is to do everything the local way and highlight the beauty of these ancient customs and practices.
This is an important step into giving environmentally and socially accepted employment to people who might otherwise be tempted by illegal logging or hunting to survive … "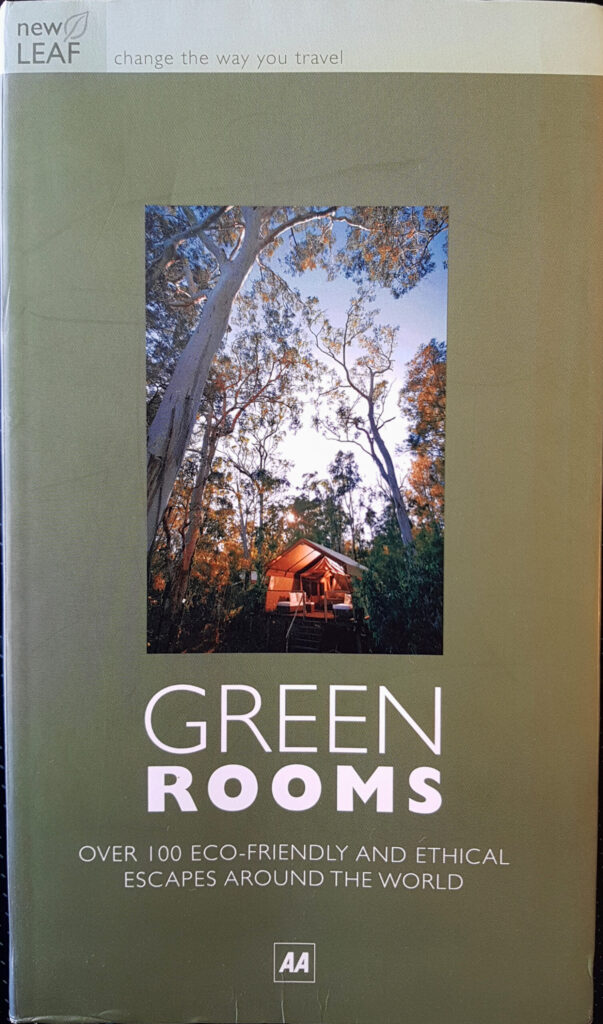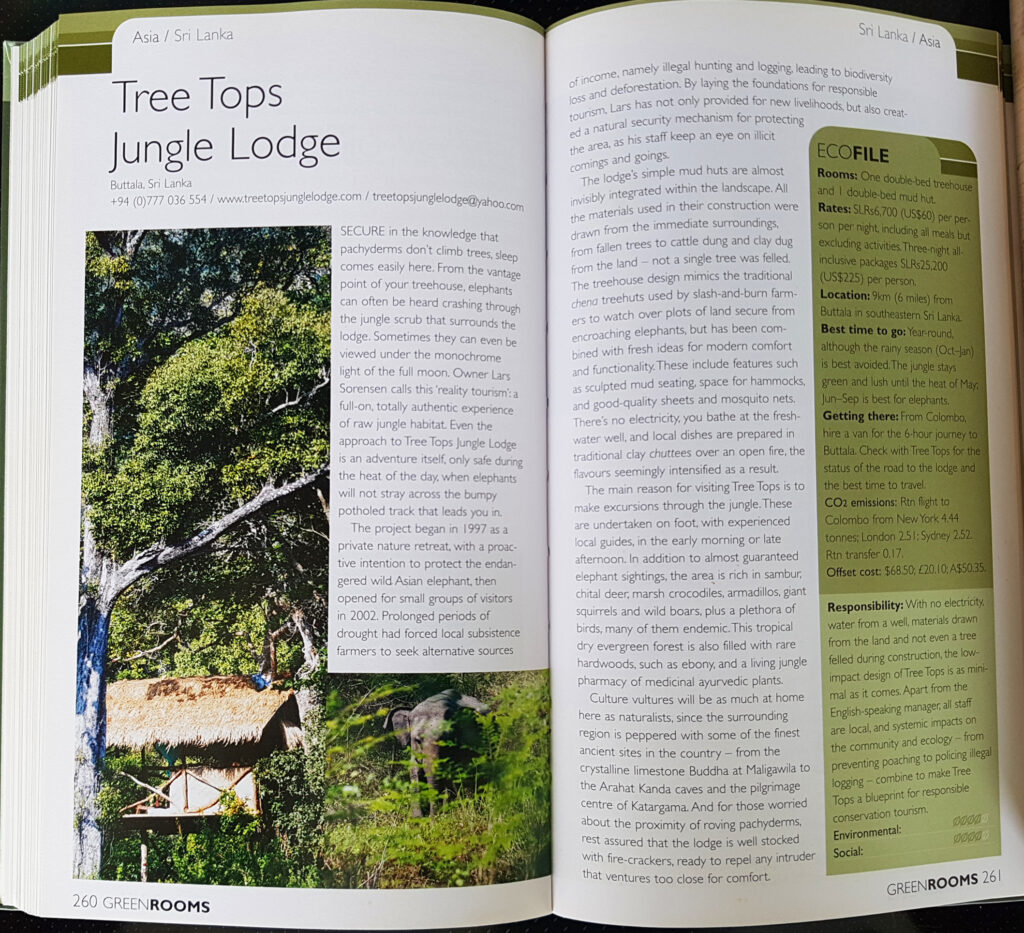 Book: Green Rooms
AA Publications
Architectural Association, London
2008, Paperback
" … Owner Lars Sorensen calls this 'reality tourism'. A fully-on, totally authentic experience of raw jungle habitat.
          By laying the foundations for responsible tourism, Lars has not only provided for new livelihoods, but tourism has also created a natural security mechanism for protecting the area … "
Book: The eco-travel handbook
By Alastair Fuad-Luke
Thames & Hudson
London, 2008
" … The lodge encourages conservation of the jungle and forest and scrub to maintain biodiversity.
          Guests can enjoy a back-to-nature experience of intimacy with the landscape and wildlife of the area "
Book: Exotic Retreats
By Julia Faiers
A collection of 40 remarkable hotels and ecolodges from around the world
Rotovision. London, 2005
" … The secret of Tree Tops Jungle Lodge's success is its unpretentious simplicity. To keep nature in focus, only the most essential comforts are provided. A visit to the lodge is all about getting back to basics and in tune with the environment … "