Self Driving to Tree Tops Jungle Lodge
Tree Tops Jungle Lodge
For Self-Drivers
Arrival guidance for self-driving travellers in Sri Lanka
Arrival guide
for self-driving
travellers in Sri Lanka
Self driving arrival is an exception at Tree Tops Jungle Lodge. However, recently it seemed like more travellers are driving a tuk-tuk, rented for the holiday time in Sri Lanka. We have also welcomed cycling tourists and travellers on rented motor bikes. If you are self-drive travelling in Sri Lanka you can drive to Tree Tops Jungle Lodge on your own. Below you can find advice about finding our location.
In order to safely reach our location please drive the route that we suggest on the maps on this page. We have prepared screenshots of Google maps and the aim is to guide guests who are using their own means of transport in Sri Lanka. Please simply drive on numbered roads. And use the jungle side-road adviced by us in the maps.
Access is through Buttala town
When you arrive as a self driver, please drive to Buttala town.
Fom Buttala continue on the Okkampitiya road (number B522).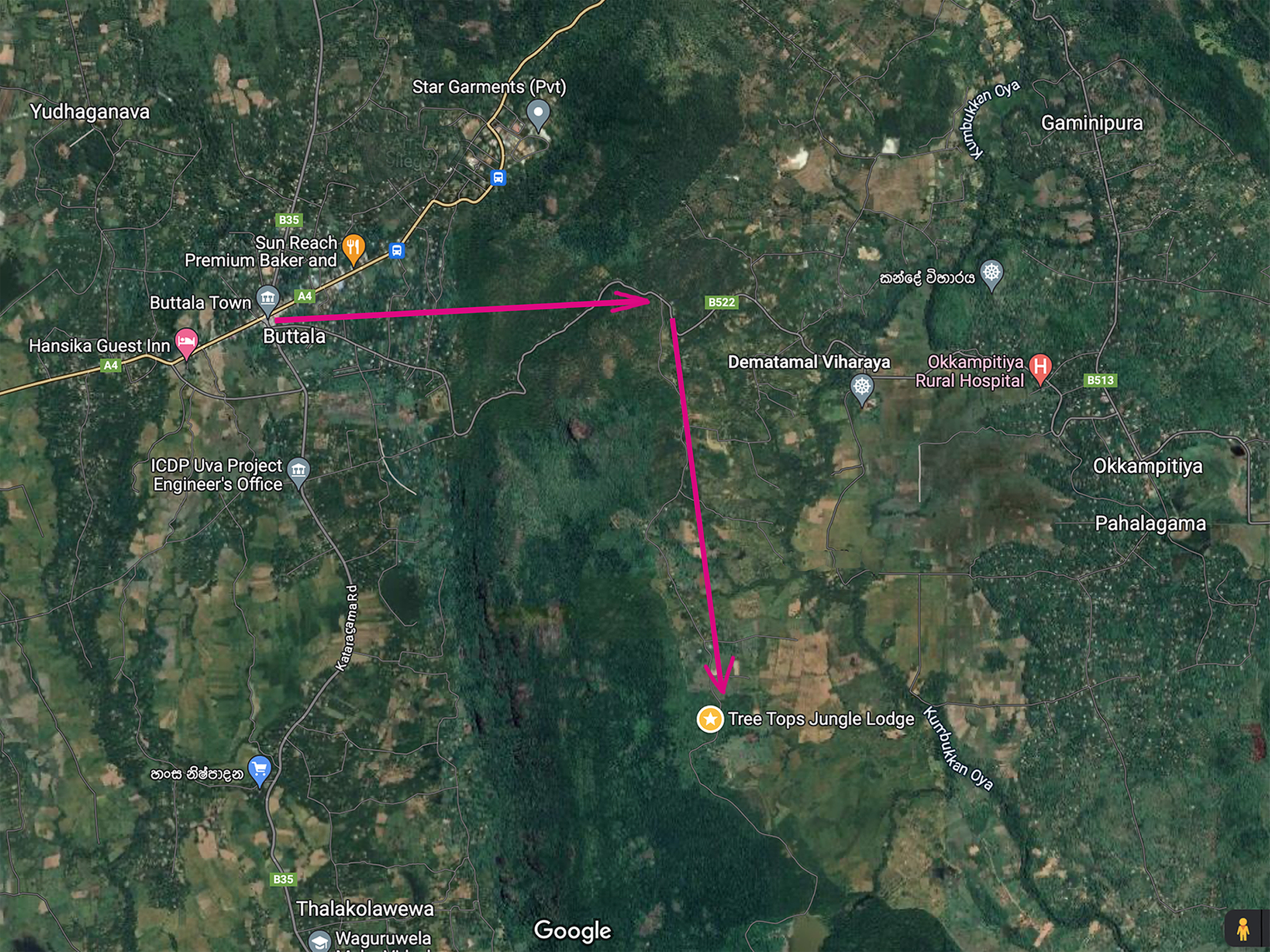 Trust our advice – Don't trust the GPS
We want to underline the important issue that you cannot rely on the GPS / Google Maps. Not in our case. Our jungle camp location has no official postal- or road address and the Google Street View car has not visited our area. On that background GPS driving route instructions are not necessarily shown correctly.
It is essential to follow our arrival advice. Do not try to drive other routes suggested on GPS. You would be in risk of being led into dangerous terrain on forest tracks, in uninhabited areas. In fact – some routes suggested by Google maps – GPS – are not proper roads but jungle tracks in wild territories. Please avoid that.
When you arrive from Kataragama, please drive to Buttala town.
From Buttala town proceed on the Okkampitiya Road (B522).